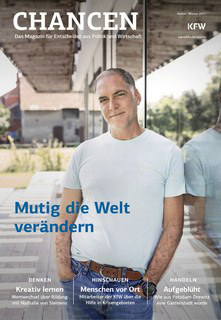 Chancen Magazin KfW, Olivia Höner
Eduardo Gordillo has found a way to cut down the mountains of plastic waste. His firm Bio-Lutions is manufacturing packaging material and disposable tableware made from crop waste. It's cost-effective, 100% compostable and provides benefits for smallholders.
Mr Gordillo, 2017 is a crucial year for your firm Bio-Lutions. For five years, you have been developing and testing a new packaging material made from crop waste. Now it's going into production.
Yes, that's right. At the moment, we're only manufacturing 600 kg a month in our Indian pilot plant. Once we finish extending the factory in April 2018, however, we'll be making six tonnes a day.
Who are your customers?
Our customers include Bigbasket, India's biggest online supermarket, as well as Licious, India's biggest online butcher, and Coffee Day, the Indian equivalent of Starbucks. We also have distributors who sell large quantities of our disposable tableware. We have so much interest from potential customers that we're already planning to build a second production line in 2019.
Why is there such huge demand in India?
The Indians need solutions right away. Their refuse collection system doesn't work, and in the streets there's just rubbish, rubbish, rubbish everywhere you look. Most of it is plastic. In India, cows are sacred and are allowed to roam freely. They eat this plastic and then they die. Here in Germany, our waste is less visible. Obviously, Germany needs to cut down on plastic packaging, too. But in other countries, the cry is more urgent: Here! Now! Immediately!
Read the whole interview by clicking on the link below.
[…]
https://www.bio-lutions.com/wp-content/uploads/2018/08/kfw.jpg
320
221
Celine Barth
https://www.bio-lutions.com/wp-content/uploads/2021/07/Logo-free-mit-Rand-300x86_150dpi.png
Celine Barth
2017-10-15 08:43:01
2018-12-18 15:36:19
CHANCEN / KFW STORIES "I WANT MY LIFE TO LEAVE A MARK."